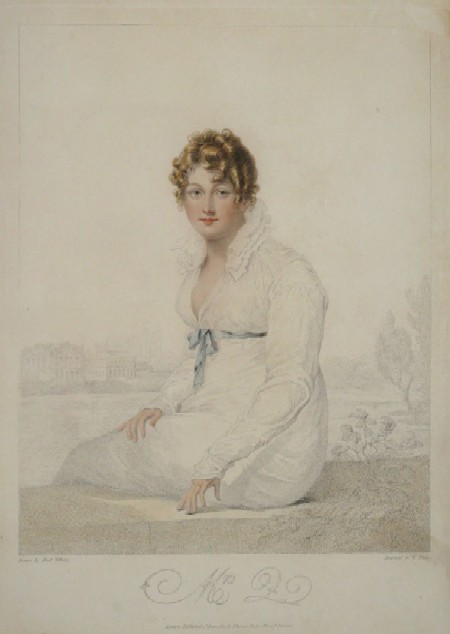 Jane Bennet:
Apart from being renowned as the prettiest of the Bennet sisters, being described as an angel ("
as to Miss Bennet, he could not conceive an angel more beautiful
"-Charles Bingley), there is not much else to go on. According to JA Story and History the painted portrait to the left is of Mrs. Quentin by Jean François-Marie Huet-Villiers and has been attributed as a likeness of Jane: going out of the novel's text, we can find that on May 24, 1813 Jane Austen wrote that she had recently attended a portrait exhibition where she had seen Mrs. Bingley's picture and that
"there never was a greater likeness."
A more in-depth excerpt of this letter:
Mrs. Bingley's is exactly herself--size, shaped face, features, and sweetness; there never was a greater likeness. She is dressed in a white gown,with green ornaments, which convinces me of what I had always supposed, that green was a favourite colour with her. I dare say Mrs. D. will be in yellow.
This letter can be read in it's entirety
here
.
Elizabeth Bennet:
Other than Elizabeth being described as the second prettiest Bennet daughter (next to Jane) there is not a great deal of description as to her physical person. She has fine, dark eyes, her figure lacks perfect symmetry but is still light and pleasing (according to Darcy), she is shorter than Kitty Bennet, tans in the sun, and is an avid walker. If we take into consideration the portrayal of her appearance according to Caroline Bingley, she would be quite plain looking indeed:
"Her face is too thin; her complexion has no brilliancy; and her features are not at all handsome. Her nose wants character; there is nothing marked in its lines. Her teeth are tolerable, but not out of the common way; and as for her eyes, which have sometimes been called so fine, I never could perceive any thing extraordinary in them. They have a sharp, shrewish look, which I do not like at all; and in her air altogether, there is a self-sufficiency without fashion which is intolerable."
Mary Bennet:
Mary is the plainest of the Bennet sisters. The final chapter of the book sheds the most light on her physical attributes, although not much is revealed:
"Mary was the only daughter who remained at home; and she was necessarily drawn from the pursuit of accomplishments by Mrs. Bennet's being quite unable to sit alone. Mary was obliged to mix more with the world, but she could still moralize over every morning visit; and as she was no longer mortified by comparisons between her sisters' beauty and her own, it was suspected by her father that he submitted to the change without much reluctance."
Kitty Bennet:
Kitty is shorter than Lydia and prettier than Mary. (On occasion her eyes are puffy and red from crying.)
Lydia Bennet
: Lydia is described as being "Stout", well-grown, with a fine complexion and good-humoured countenance. She is the tallest of the Bennet sisters.
Mrs. Bennet:
Mrs. Bennet was most likely a beauty in her youth as her physical appearance is referenced (teasingly) by Mr. Bennet.
"I see no occasion for that. You and the girls may go, or you may send them by themselves, which perhaps will be still better, for as you are as handsome as any of them, Mr. Bingley may like you the best of the party."
Mr. Bennet:
Mr. Bennet sadly has no physical description either directly or alluded to through other characters.
Fitzwilliam Darcy:
Mr. Darcy is described as being tall. He is handsome, noble, and admired greatly by all at the first ball, until his manners contradict his appearance.
"...fine, tall person, handsome features, noble mien..."
Georgiana Darcy:
Georgiana is most likely Elizabeth's height or slightly taller, with a formed figure and a womanly graceful appearance.
"Miss Darcy was tall, and on a larger scale than Elizabeth; and, though little more than sixteen, her figure was formed, and her appearance womanly and graceful. She was less handsome than her brother; but there was sense and good humour in her face, and her manners were perfectly unassuming and gentle
Charles Bingley:
Bingley is described as being good looking and handsome with a pleasant countenance. He is shorter than Darcy.
"Mr. Bingley was good-looking and gentlemanlike; he had a pleasant countenance, and easy, unaffected manners."
Caroline Bingley:
"His sisters were fine women, with an air of decided fashion."
Mr. Hurst:
"....[he] merely looked the gentleman;"
Louisa Hurst:
"His sisters were fine women, with an air of decided fashion."
George Wickham:
Mr. Wickham is all appearances of a handsome gentleman.
"He had all the best part of beauty, a fine countenance, a good figure, and very pleasing address."
Charlotte Lucas:
In a conversation between Mrs. Bennet and Mr. Bingley, Charlotte is described as follows:
"...the Lucases are a very good sort of girls, I assure you. It is a pity they are not handsome! Not that I think Charlotte so 'very' plain--but then she is our particular friend."
Mr. William Collins:
Mr. Collins (contrary to his portrayal in the mini-series Lost in Austen) is actually tall and heavy.
"He was a tall, heavy-looking young man of five-and-twenty. His air was grave and stately, and his manners were very formal."
Lady Catherine de Bourgh
: Per Elizabeth's observation on visiting Rosings Park we are given the following description of her Ladyship.
"Lady Catherine was a tall, large woman, with strongly-marked features, which might once have been handsome."
Anne de Bourgh:
Elizabeth describers her as being pale, thin, small, sickly, and cross with insignificant features. Anne is also remarked upon as being "thin and small" by Maria Lucas.
Mrs. Gariner:
All is known about her physical characteristics is that she is several years younger than Mrs. Bennet and Mrs. Phillips which would give the impression she looks younger, though this is not a fact.
Colonel Fitzwilliam:
Unfortunately, the only character description for Colonel Fitzwilliam is that he is not handsome.
"Colonel Fitzwilliam, who led the way, was about thirty, not handsome, but in person and address most truly the gentleman"
Mrs. Reynolds(Housekeeper at Pemberley):
From Elizabeth's persepctive at Pemberley, she would have described Mrs. Reynolds as
"a respectable-looking elderly woman"
.